When:
October 28, 2023 @ 10:00 am – 12:00 pm
America/Chicago Timezone
2023-10-28T10:00:00-05:00
2023-10-28T12:00:00-05:00
Where:
Lewis and Clark room at Anita B Gorman Discovery Center
4750 Troost Ave
Kansas City
MO 64110-1728

The Resilient Activist Presentation to BikeWalkKC: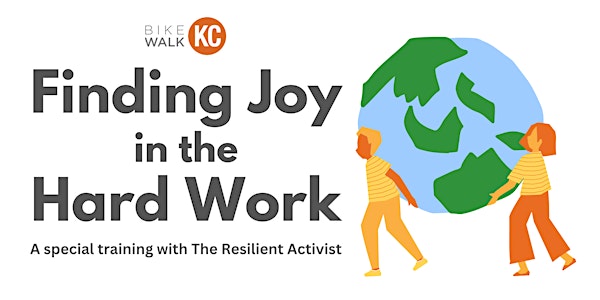 From BikeWalkKC: "What if you could embody your passion for a better world in an uplifting, resilient way? What if you could trust that if you release one commitment, someone else will step in to share in the work?
We will give you a hint: "work in isolation because you are the only one in the fight" and "you aren't effective unless you're stressed" won't get you there.
In this workshop for people advocating for a brighter future, Sami Aaron, founder of The Resilient Activist and activist Anne Melia, will lead us in the Four Steps for a Resilient Life. Come learn practical strategies for letting go of what is draining you and finding joy in the hard work."
Private Event for BikeWalkKC Members. Limit of 25 people, so RSVP here.
To become a BikeWalkKC member, click here.
We have also saved a few seats for those working in the non-profit advocacy space as a champion for your community.
Email Liz Harris at info@bikewalkkc.org for the code to register.